Our Company
Corporate Profile
---
Business Development
History
Asia United Bank Corporation (AUB) is among the very few banks that was granted a full-branch commercial bank license in 1997 and is operating until this day. In 2013, AUB joined the league of Philippine Banks that have become publicly listed and acquired universal banking status.
AUB was registered with the Securities and Exchange Commission (SEC) on October 3, 1997. Its registered office and principal executive offices are located at Joy-Nostalg Center, 17 ADB Avenue, Ortigas Center, Pasig City, Philippines.
AUB was granted the authority to operate as a commercial bank under the Monetary Board (MB) Resolution No. 1149 dated September 3, 1997 and commenced operations on October 31, 1997. In 2012, it obtained approval from the Bangko Sentral ng Pilipinas (BSP) to upgrade its license into expanded commercial banking status. In 2013, the Bank was granted an authority to operate as a universal bank under MB Resolution No. 356 dated February 28, 2013. The universal banking license authorizes, AUB, in addition to its general powers as a commercial bank, to exercise the following: (1) Powers of an investment house, including securities underwriting and trading, loan syndication, financial advisory, private placement of debt and equity securities, project finance and direct equity investment, and (2) Power to invest in allied and non-allied enterprises, subject to regulatory caps on the amount of investment relative to the Bank's capital and ownership percentage.
AUB began as a joint venture between a consortium of Filipino Industrialists (namely Jacinto L. Ng, Sr., Luis U. Ang and Jose S. Sandejas) and Taiwanese investment banks (namely China United Trust & Investment Corporation and China Development Industrial Bank). As of December 31, 2013, the Bank is now a publicly listed company with three principal/substantial stockholders: Republic Biscuit Corporation, Kuo Yu Philippines Holdings Corporation, and Lambda Holdings Corporation.
To expand its business and distribution network, AUB has three subsidiaries as of September 30, 2021.
| Subsidiary | Principal Activities | Country of Incorporation | % Ownership |
| --- | --- | --- | --- |
| Rural Bank of Angeles | Rural Banking | Philippines | 99.54% |
| Cavite United Rural Bank | Rural Banking | Philippines | 100.00% |
| Asia United Leasing and Finance Corp (AULFC) and its 100% subsidiary, Asia United Fleet | Leasing and Financing | Philippines | 39.00% |
Review of the Past Three Years
Over the past three years, AUB has been steadily growing by building a strong and loyal client base through its careful and focused client generation activities and technological innovations for both its deposit-taking and lending businesses.
Consolidated
Parent Company
2020
2019
2018
2020
2019
2018
Total Assets (in PhP billions)
315
267
238
312
261
234
% growth
18%
12%
19%
19%
12%
19%
Net Income (in PhP millions)
2,800
4,441
3,287
2,789
4,447
3,313
% growth
-37%
35%
16%
-37%
34%
18%
Branches*
270
267
262
228
226
228
% growth
1%
2%
4%
1%
0%
0%
*Includes micro-banking offices
In 2018, the group sustained its growth with a 16% increase in net income to P3.287 billion from P2.826 Billion a year ago. This is primarily due to the 35% increase in Interest income from Loans and receivables.
Total assets increased to P238 billion as of December 31, 2018, 19% higher than the asset level in 2017.
In 2019, the group earned P 4.441 billion in net income, 35% higher than its P 3.287 billion net income in 2018. The increase came from the 28% increase in interest income from loans and receivables plus the 331% increase in net Trading and Securities gain.
During the year, the Group reached out to more customers by expanding its consolidated distribution network to 267 branches, with the Parent bank ending the year with 226 branches.
AUB's achievements can be attributed to its principal competitive strengths:
Consistent balance sheet growth and profitability driven by an efficient operational structure;
Expanding nationwide distribution network resulting in consistently expanding deposit base
Solid core customer base among SME's and corporations and a growing retail base
Tailored and innovative customer service and touch points supported by an advanced IT system
Prudent balance sheet management with strong capitalization and liquidity to support growth; and
Highly-experienced management team with proven track record
In 2020, the group faced with challenges of Covid-19 pandemic resulted to a P2.800 billion net income, 37% lower than previous year's net income of P4.441 billion. The group managed to increase its Net Interest income by 35% from P4.6 billion in 2019 to P2.9 billion in 2020 mainly due to retirement of high cost deposits and its non-interest bearing income by 55% from P2.7 billion in 2019 to P4.2 billion in 2020 mainly due to Gain on sale of investment securities at amortized cost.
These increases were offset, however, by the P4.3 billion increase in provision for losses from P1.1 billion in 2019 to P5.4 billion in 2020 due to increased provision in loans portfolio as the bank considered the effect of the pandemic.
AUB's achievements can be attributed to its principal competitive strengths:
In 2020, amidst the COVID-19 global pandemic, AUB reaped a string of awards and recognitions from prestigious global award-giving bodies. These awards are concrete proof that AUB has the agility to turn a crisis into an opportunity:
Forbes Asia's 2020 Best Under a Billion – AUB was recognized by Forbes for having a consistent top and bottom line growth along with 200 top-performing publicly listed companies with less than $1 billion in revenue.
One of the Strongest Banks in Asia – Singapore-headquartered TAB International Pte. Ltd., in its publication, The Asian Banker, listed AUB as one of the 500 strongest banks by balance sheet evaluation in the Asia Pacific in 2020. AUB placed 3rd in the Philippines and 52nd in the region. Of the 6 indicators used in the ranking, we scored the highest in 5: Capital Adequacy Ratio (CAR), Return on Assets (ROA), Cost-Income Ratio (CIR), loan loss reserves, and liquid assets.
Best Managed Fund 2020 – For the second time, our AUB Equity Investment Fund received the Best Managed Fund Award for the Equity Peso category from the CFA Society Philippines. For the past five years, AUB has won the award, including Best Dollar Medium Term Bond Fund for the AUB Gold Dollar Fund four years in a row since 2016.
Best Cash Management Bank – Philippines 2020: The Annual Global Business Outlook Awards gave this recognition for our pioneering cash management solution, AUB BizKit. This is given to companies for their innovation, achievement, and strategy.
Mission Vision & Values
---
Our Vision
We are committed to be the bank of choice, known for financial strength and superior delivery of innovative products and services, driven towards total customer satisfaction.
Our Mission
We shall be guided by our chosen corporate values of Commitment, Integrity, Excellence, Leadership, and Teamwork in:
developing long-term partnerships with clients through the delivery of responsive, innovative, and value-added products and services;
providing the delivery channels that are relevant to our market to ensure convenience and increase the bank's accessibility;
creating a dynamic and meritocratic employee work environment that fosters mutual respect, provides professional and personal growth, and encourages creativity;
dealing fairly with business partners; and:
ensuring optimum returns for our stockholders.
Directors & Management Team
---
Board of Directors
| | |
| --- | --- |
| Abraham T. Co | Chairman & Director |
| Manuel A. Gomez | President & Director |
| Justice Adolfo S. Azcuna | Director |
| George T. Chua | Director |
| Atty. Lily K. Gruba | Director |
| Jacob C. Ng | Chief Transformation Officer, Director, EVP, Head of Branch Banking |
| Atty. Romero Federico S. Quimbo | Independent Director |
Executive Vice Presidents
Antonio V. Agcaoili, Jr.
Jacob C. Ng
Wilfredo E. Rodriguez, Jr.
Ernesto T. Uy
Senior Vice Presidents
Andrew A. Chua
Mariflor L. Cruz
Rosario M. Dayrit
Rainer T. Defante
Florante C. Del Mundo
Leonides F. Intalan
Joselito R. Jacob
Herminia C. Musico
Willy G. Ng
Maria Teresa C. Ogbinar
Lela S. Quijano
Soledad O. Reyes
Cynthia P. Santos
Amelia S. Sison
Catherine C. Uy
Amelin S. Yao
First Vice Presidents
Jill Mae J. Ang
Emma Theresa M. Cabochan
Joselito R. Camagong
Leah C. Co
Maria Isabel V. Digioia
Jennifer Joy U. Go
Louie S. Landayan
Zita M. Los Baños
Ma. Bernadette Y. Lozada
Desiree Mae D. Lumanog
Annette R. Manapil
Rachelle D. Ng
Ana Lina S. Palma
Cristina O. Pama
Mary Rose R. Pamaran
Albert T. Reyes
Kristeen Ella M. Reyes
Maria Magdalena V. Surtida
Vice Presidents
Ma. Theresa E. Abad
Rachel Louise S. Arnaez
Edward T. Barretto
Anna Maria Carmencita L. Bautista
Techie M. Buenaventura
Cindy C. Carreon
Laidy Claire C. Dela Rosa
Ma. Theresa Lynn Egusquiza
Emily S. Go
Lisette Lachica-Araneta
Alain A. Lustre
Jahil L. Macapagal
Alejandro Niño Mallari
Orman O. Manansala
Raymund M. Mangahas
Marichie O. Nacion
Eileen C. Ng
Maritess V. Pascual
Ma. Concepcion L. Piscasio
Rhoderick M. Ratio
Rober Christian B. Rodriguez
Jerilee Mae C. Sanidad
Mimi Tan To Santos
Neil Allen A. Sen
Bienvenido Giancarlo A. Sioson
Ma. Trinidad O. Songco
Christine M. Tan
Pat Tinga
Gilda Del C. Tiongco
Danica Mae Y. Treyes
Karla Andrea M. Ubalde Manuel
Leslie W. Villegas
Emily C. Wong
Maria Victoria B. Yee
Assistant Vice Presidents
Reyna May B. Abangan
Ma. Marilyn V. Ahorro
Ronald T. Alava
Reynaldo B. Alip
Sandra I. Alunan
Von Czar Amora
Elsa R. Bañez
Marilene Bitancur
Irene T. Ching
Lily Ann M. Chua
Melissa C. Climaco
Dhyndo J. Coronacion
Joanna Patricia L. Crisostomo
Alvin Teodoro P. Dayauon
Fermin F. De Guzman
Nanette L. De Jesus
Lucita S. Dee
Gladioli C. Diesmos
Samuel S. Dogillo
Robert Frederick P. Dy
Maria Virgina Feliciano
Teresa Socorro S. Feraren
Raymond Joseph G. Fernandez
Reginald Neil P. Garcia
Mary Errlynd Garcia
Emilia Teresa Gatuslao
Ma. Gracia M. Gordo
Reynaldo D. Halasan Jr.
Marilyn H. Inigo
Katherine F. Invina
Emelie C. Lao
Daisy V. Laude
Myra L. Lavandero
Jimpson R. Lim
Paulo Angelo V. Mariano
Christine Mendoza
Armando K. Milanes
Alfred Paul Paiso
Liwayway D. Palaganas
Maricar Palban
Jayson Pineda
Ling Ling Ponce
Jacquelyn C. Pornel
Rose Ann Ramos
Paulo Rivera
Eduardo Arsenio C. Roldan
Melissa T. Sadang
Mary Genevieve C. Sia
Rachelle Solis
Leia Vernnease Tan
Christine C. Tan
Maribel V. Toriente
Baby Annie K. Torres
Rosalie S. Torres
Jocelyn Marie Uson
Ronaldo Y. Villanueva
Katherine R. Villareal
Stephany V. Yu
For more information on Asia United Bank's Directors, Executive Vice Presidents and Senior Vice Presidents, kindly refer to the company's Definitive Information Statement (SEC Form 20-IS) submitted to the Securities and Exchange Commission on June 4, 2021, which can be found in the SEC Filings Page under the Company Disclosures sub-tab in the website's Investor Relations tab.
Updated as of March 31, 2022
Organizational Chart
---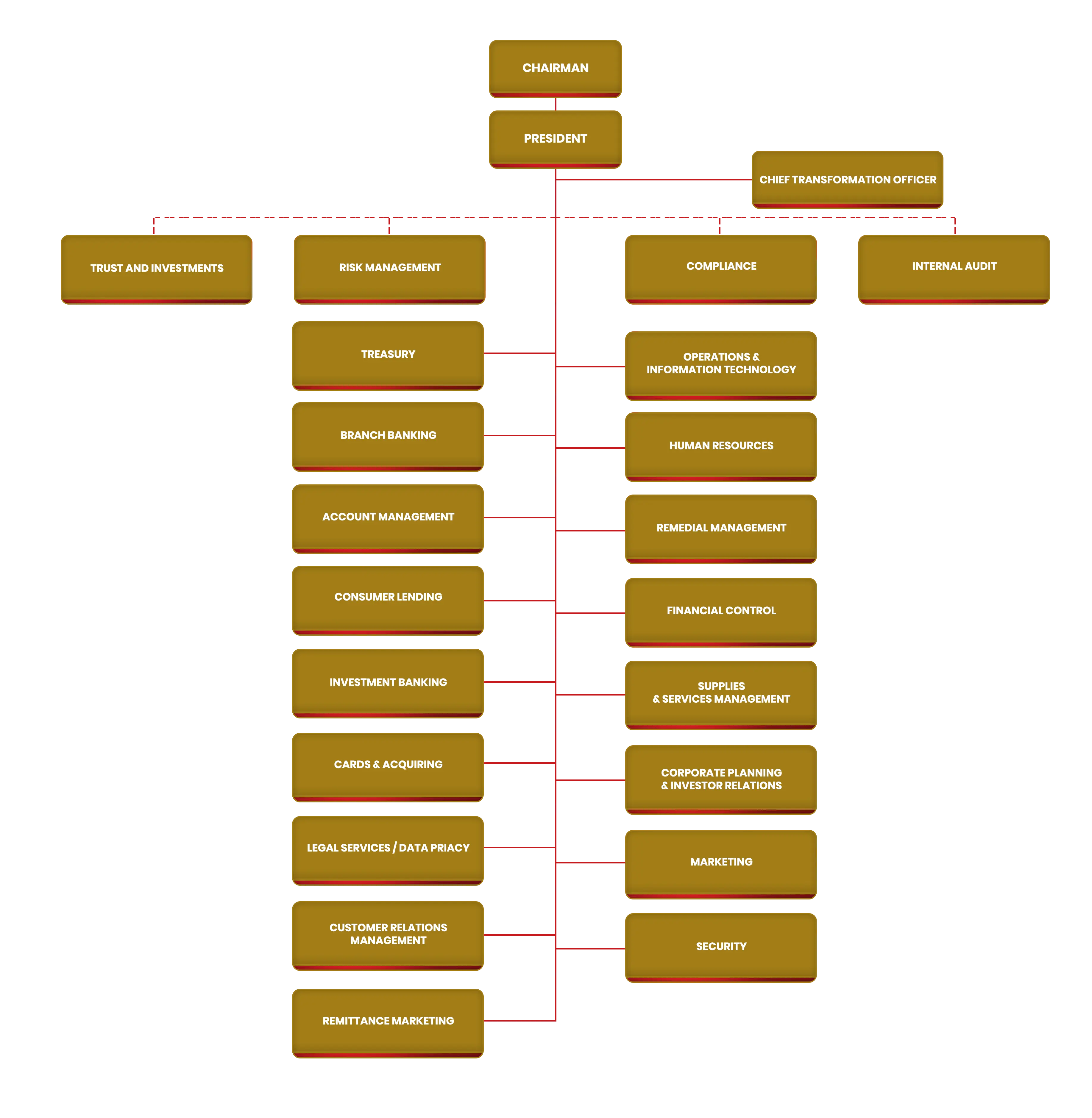 Group Corporate Structure
---
Articles of Incorporation & By Laws
---